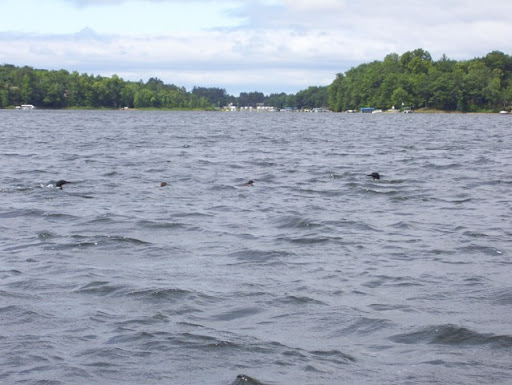 Remember the
loon family
I posted about approximately three weeks ago?
I was on the same lake today, finishing up a vegetation survey, and I saw them again! The babies have grown from tiny fuzzballs to big, demanding fuzzballs. Both parents were busy diving and bringing up small fish to feed them, and my coworker and I watched in awe as the little ones dipped their heads under the water to watch the adults, then finally disappeared under the surface themselves. Diving lessons. Amazing. And all this happened within fifty feet or so of our boat. This was the best picture I got with the low-zoom work camera; I was lucky to get all four of them on the surface at the same time.
It was kind of a windy, nasty day to be out otherwise, and I was glad to be finished around noon. Tomorrow's high is only supposed to be in the upper fifties. O Summer, where art thou?